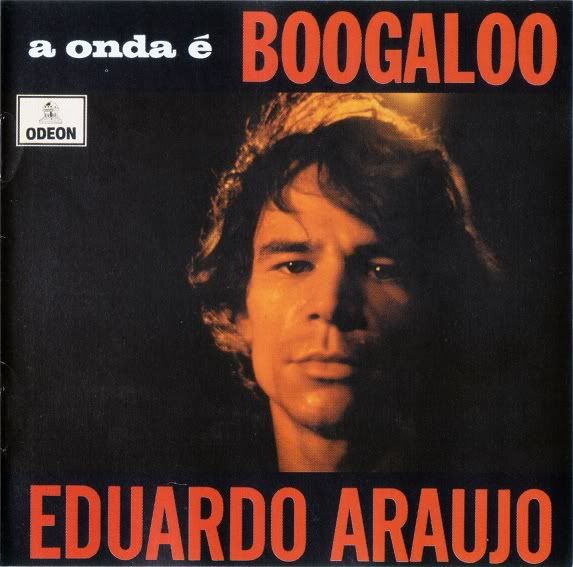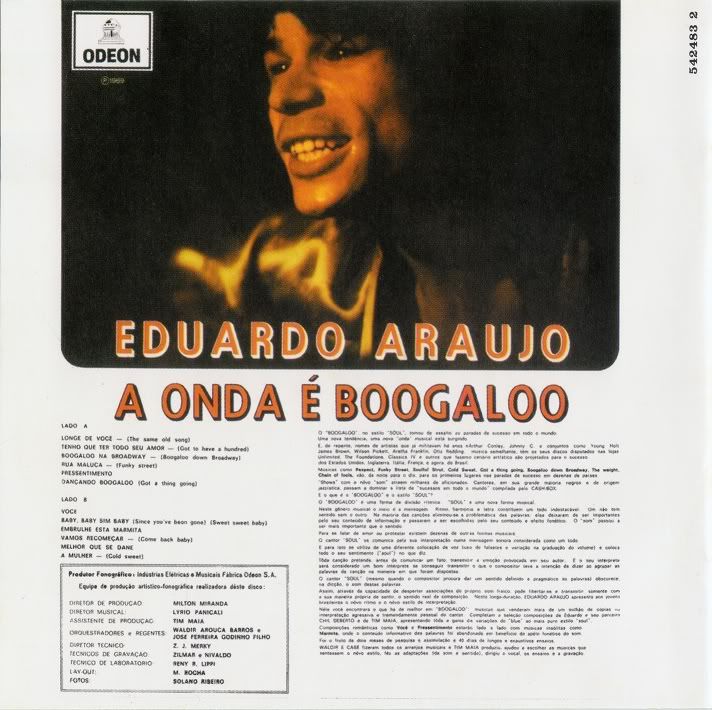 A ONDA É BOOGALOO




Eduardo Araújo / Tim Maia (1969)




1969 Odeon (MOFB 3584

)
1 Longe de você (The same old song)
(Robinson, Vrs. Tim Maia)
2 Tenho que ter todo seu amor (Got to have a hundred)
(Wilson Pickett, Vrs. Tim Maia)
3 Boogaloo na Broadway (Boogaloo down Broadway)
(J.James, Vrs. Tim Maia)
4 Rua maluca (Funky street)
(Simms, A.Conley, Vrs. Tim Maia)
5 Pressentimento
(Chil Deberto, Eduardo Araújo)
6 Dançando boogaloo (Gota a thing going)
(W.King, Vrs. Tim Maia)
7 Você
(Tim Maia)
8 Baby, baby sim baby (Since you've been gone) (Sweet sweet baby)
(Franklin, White, Vrs. Tim Maia)
9 Embrulhe esta marmita
(Chil Deberto, Eduardo Araújo)
10 Vamos recomeçar (Come back baby)
(Ray Charles, Vrs. Tim Maia)
11 Melhor que se dane
(Chil Deberto, Eduardo Araújo)
12 A mulher (Cold sweat)
(J. Brown, Ellis, Vrs. Tim Maia)
I sought out this album because it is a footnote -- albeit an important one - in the career of Tim Maia. It marks a turning point in Tim's story, and features some musicians that Tim would incorporate into his own band in the coming years. After years of struggling, having formed The Sputniks (where he famously fired Roberto Carlos), having moved to New York City, having been deported from the US, having returned to Brazil - everything started coming together for him in 1969. After quite some time trying to get his old friend-nemesis-former-bandmate Roberto Carlos to record one of his songs, O Rei finally aquiesced and recorded "Não vou ficar" on his 1969 soul-influenced album, and Tim found some work arranging and producing new material for another old friend of the "Clube do Rock", Eduardo Araújo. This gave Maia some badly-needed cash and also name-recognition: Araújo would even score a hit with the song "Você", leading Tim to return the favor by recording one of Araújo's compositions in 1971. And indeed while Araújo also wrote songs (two of them are here, with a writing partner by the super-cool name of Chil Deberto, which sounds unintentionally cooler in English than in Portuguese..), the album is dominated by Tim Maia's arrangments (which he shares with Walter Arouca Barros and José Ferreira Godinho Filho). And one really loud organ in the mix. Tim arranged and wrote new lyrics for a whole mess of North American soul classics, reflecting his time 'at the source', living the good old U.S.A. The results are actually better than I expected when I first heard about this album. Songs by Smokey Robinson, Wilson Pickett, James Brown, Aretha Franklin and Ray Charles are given new treatments. It's not all gold but it makes for interesting listening. The most intriguing of these are the ones where Maia choses to slow the original tunes down, making them sound heavier -- "99 and 1/2" from Wilson Picket, "(Baby Baby) Since You've Been Gone" from Aretha Franklin, and James Brown's "Cold Sweat" highlight both Tim's ambition and his budding genius. It's also worth pointing out the evolution of his recording technique - you can hear an inkling of the drum sound he was working towards in these tunes, but he hasn't quite gotten it to his satisfaction yet. Of the backing band - Waldir on trumpet and Capacete on bass - would become parts of Tim's early band.
It is a bit unjust that this album was reissued at a time when a huge chunk of Tim's own catalog was still out of print - fact that has only been rectified within the last year. And, with all due respect, I'm not particularly interested in seeking out any of Araújo's other albums, although if I come across more of the early titles I probably will out of curiosity. In a rather odd twist, he is now busy making BRAZILIAN COUNTRY ROCK and RAISING HORSES!
partial credits:
"Os Bons"
Waldir - trumpet and arrangments
Casé - alto sax
Garôto - vibraphone
Mauro - trumpet
Zezinho - piano and organ
Capacete - bass guitar
LINKS REMOVED BY CORPORATE SCUMBAGS who are going to sell you a shitty compilation made for gringos in October. Hey, where do you think most of your buyers will have heard this music for the first time?? Blogs, maybe? Fuck you AmeriKKKa.