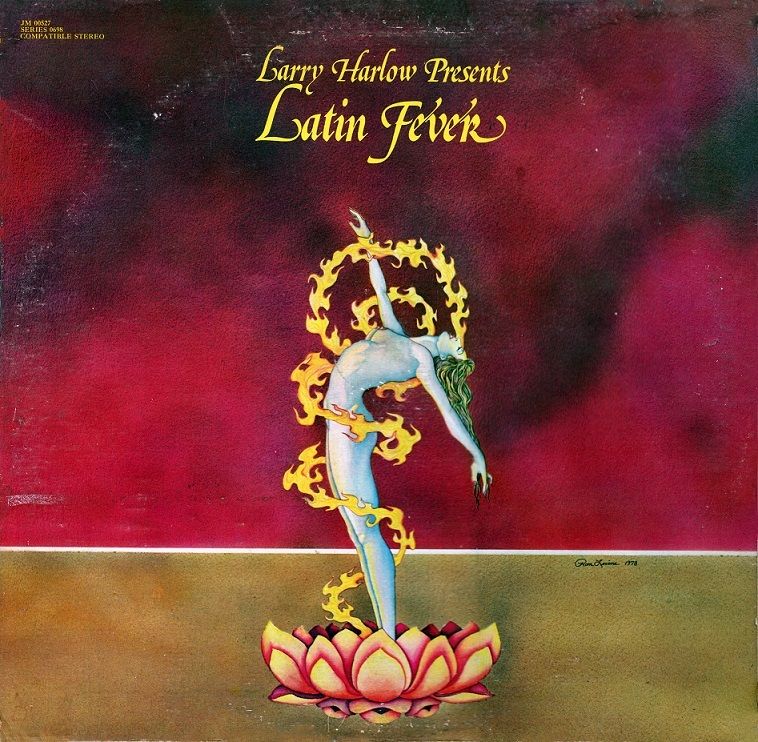 Latin Fever 
Larry Harlow Presents Latin Fever
1978 Fania Records JM-00527
A1     Digan Que Si    
A2     Cancion De La Alegria    
A3     Lo Que Te Gusta Mas    
A4     Rumba Del Monte Adentro    
A5     Chirrin Chirran    
B1     La Mujer Latina    
B2     Que Te Pasa Corazon    
B3     En La Habana    
B4     Our World
    Bass – Linda LoPresti
    Bongos – Annette Lopez
    Congas – Nydia Mata
    Drums – Ginger Bianco  
    Flute, tenor saxophone – Jean Fineberg
    Guitar – Bev Phillips
    Lead Vocals – Ada Chabrier, Nancy O'Neill, Rosa Soy
    Piano – Carol Parker
    Timbales – Susan Hadjopoulos
    Trombone – Kathy Cary
    Trumpet – Ellen Seeling, Trudy Cavallo
    Arranged By – Luis "Perico" Ortiz (tracks: B1), Marty Scheller (tracks: A1, A2, A4, A5, B2), Randy Ortiz (tracks: B4), Sonny Bravo (tracks: A3, B3)
 Producer – Larry Harlow, Rita Harlow
 Engineer – Irv Greenbaum, Mario Salvati
This curious little record seems like it ought to have a lot of great stories surrounding it.  Maybe somebody will come by and tell us some in the comments section here, because there really is not a lot of information out there on the internet.
When I bought it, I assumed that Larry Harlow actually played on the session, and I continued thinking that for a while before I stopped being lazy and actually read the info on the back cover.
I have been noticing signs that I am getting old lately.
One of them is that I do not religiously read album credits like I used to when I was a young lad, back before the days of being flooded with more music than we can possibly listen to in one lifetime.
Another clue that I am getting old is that I actually enjoyed the hell out of a Dire Straits album the other day and thought it was pretty groovy.